Fake barbecue product website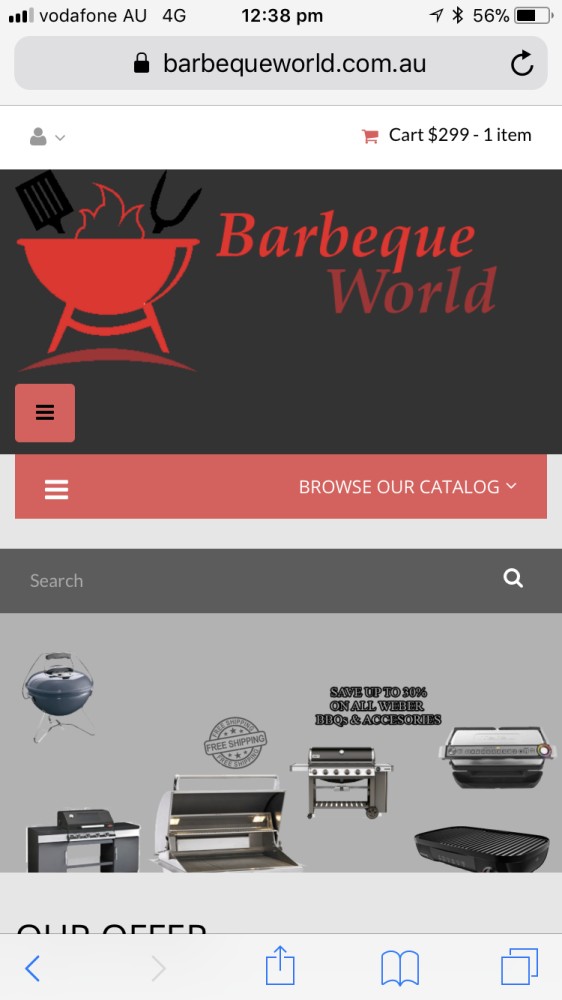 WA ScamNet has received reports from consumers about financial losses to the website www.barbequeworld.com.au, with goods ordered but not delivered.
The website is claiming to sell heavily discounted barbecues and accessories with further reductions offered for payment by bank transfer.
After selecting the items to be purchased, consumers are prompted to either log in or create an account. At checkout, the site requests confirmation of payment with two options provided - via bank transfer which offers an additional 5% discount or by using a credit card where there is a 3% charge.
Often the biggest tip-off that a retail website is a scam is the method of payment. Scammers will often ask you to pay using a money order, pre-loaded money card, or wire transfer, but if you send your money this way, it's unlikely you will see it again or receive your purchased item. This website asks victims to pay by bank deposit.
The bank account details on the site are linked to other websites offering other products at discounted prices, and reviews of these other websites show that consumers have paid for goods and not received them.
The website has been reported for removal and the account has been reported to the bank. Consumers who have already made purchases are urged to report the transaction to their bank.
Tips to avoid fake websites
Be wary of 'great deals' served to you via an internet search or pop-ups. Scammers hope to catch you out when you impulse buy on the promise of a super bargain.
Be suspicious of sites you haven't heard of before or that haven't been online for long (copyright 2017 at the bottom for example).
Consider the risks if there is no physical address, phone contact details or ABN.
Watch out for sites asking for insecure payment methods (direct bank transfer or wire transfer).
Protect yourself by using known reputable sites and paying by a secure system (padlocked) with a credit card or Paypal, so you have an opportunity to seek a chargeback if you don't get what you paid for.
Use the internet to search for reviews before buying from a website as this will often reveal consumer blog threads exposing scam sites (or a Consumer Protection warning).
Be aware scammers create copycat sites of real online businesses. Pixelated photos can be a sign of this.