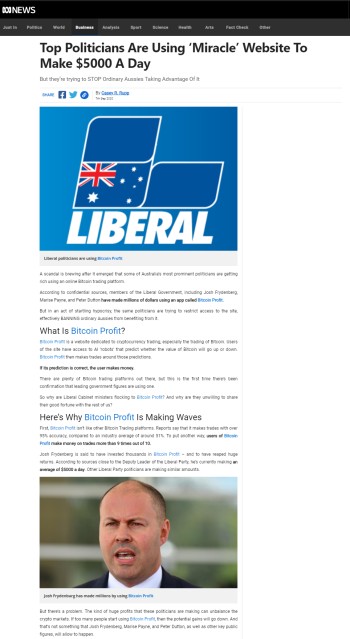 Scammers are using images of Federal Treasurer Josh Frydenburg to lure consumers into a cryptocurrency con that falsely claims to have made millions of dollars for thousands of Australians.
The Bitcoin Profit (Profit Bitcoin) scam webpage also includes fake testimonials from supposedly happy consumers who signed-up and received 'huge' pay-outs.
How the scam works
It all starts with a cryptic SMS that contains a message such as "You have an unclaimed request" or "I was trying to get a hold of you… let me know if this is what you were looking for" followed by a link.
Example of SMS received: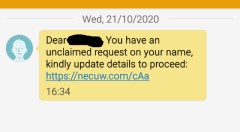 When the victim clicks on the link, they are taken to the webpage or fake news articles that advertise the Bitcoin Profit (Profit Bitcoin) scam page.
Once on the page, the victim is encouraged to sign up by putting in their full name, email address and phone number, after which they are contacted by someone claiming to be from Bitcoin Profit (Profit Bitcoin) and that's when the high-pressure selling techniques start.
One victim who had clicked on the link reported that they received a call on their mobile a few days after receiving the SMS which was a "follow up on their registration for Bitcoin". This may be coincidental or the link may trigger interest in the Bitcoin scheme and start the ball rolling for the high pressure selling as well.
The New Zealand financial regulator, Financial Markets Authority (FMA), issued a warning about Profit Bitcoin in April 2020, after learning that they were advertising on Facebook by promoting false news and had used an image of the Prime Minister.
Bitcoin Profit (Profit Bitcoin) is not registered as a financial service provider in NZ or Australia.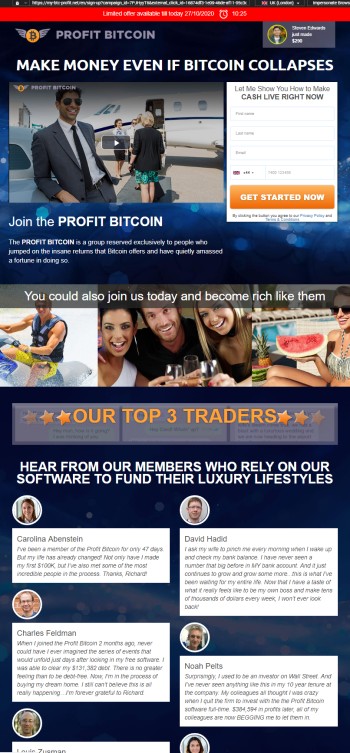 Advice
Do not click on links within random text messages.
Do not hand over personal information to people you do not know.
Be suspicious of offers to sell you shares, cryptocurrency or a chance to take part in binary options trading, especially if the 'company' is based overseas.
Be wary of any investment offering a high return with little to no risk. If it sounds too good to be true, it probably is.
Be suspicious of celebrity endorsements for investment products, especially when they claim they have made millions of dollars.
Only invest what you can afford to lose.
If you have invested and are trying to withdraw your funds, do not pay any further funds or provide your personal information in order to make the withdrawal.
Get independent financial advice before committing to any investments. Only use operators with an Australian Financial Services (AFS) licence, or those who are authorised by an AFS licensee.
Check the Australian Securities & Investments Commssion (ASIC) website for more information on investing – ASIC has information about bitcoin and virtual currencies available on the MoneySmart website.
WA investors who are victims of a scam should contact WA ScamNet.