Fraudsters are stealing money after promising savings on household bills through a fake business called 'You Compares' – not to be confused with authentic comparison website YouCompare.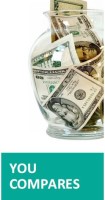 The steps of the scam:
You receive unsolicited contact by telephone or email from You Compares offering a 20 per cent saving on your bills. They provide a Hotmail address for contact and ABN details.
After you send them a scanned copy of a bill, You Compares claim they have made the payment to the service provider on your behalf.
You contact your service provider, which confirms payment has been received for the bill.
You pay 80 per cent of the total bill to You Compares via a bank transfer.
Later, the service provider contacts you to advise that the payment has been reversed and you must pay the now overdue bill again.
You attempt to contact You Compares, but they are no longer answering your calls or emails.
The real YouCompare business (https://youcompare.com.au) has confirmed it does not offer bill payment services like this. It also does not currently operate in Western Australia.
Consumers are urged to be on the lookout for You Compares, emails received from youcompare@hotmail.com and alliancemarketing@hotmail.com or similar free email accounts, and a You Compares pamphlet that has spelling and grammar errors.
Top tips to avoid this type of scam:
Remember anyone who phones out of the blue offering a special deal may not be who they say they are. Hang up if it seems too good to be true.
Don't be pressured. Take notes about the deal but then do some research before signing up or giving out personal information.
Check their details (including business name, address and phone numbers) through reliable channels. Verify that the email address belongs to the real company you think you're dealing with. Be cautious about any business that uses free email services such as Hotmail, Yahoo or Gmail.
Financial service providers should be licensed through the Australian Securities and Investments Commission (ASIC) – but remember that scammers can copy these details too.
Be suspicious about requests to pay up-front fees via wire or bank transfer. Get advice from Consumer Protection (1300 30 40 54) or ASIC (1300 300 630) before going ahead.
Check online to see if the details match other reported scams or call WA ScamNet (1300 30 40 54).
If you have made payments or provided bank details, advise your financial institution immediately and request a charge back if you used a credit card.