Update 23 January 2017
Recent reports have been received of a salesman selling 'Turkish rugs' in Wanneroo.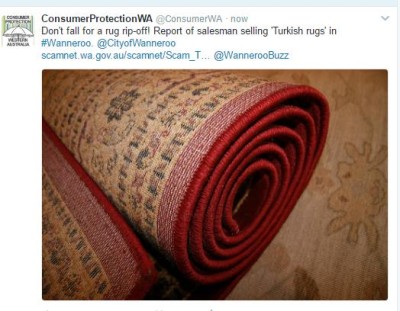 Rug rip-offs
Consumer Protection is warning Western Australians to be wary of uninvited offers to buy cheap, but supposedly high quality, Turkish rugs.
The offers are being made by an itinerant carpet seller operating in WA targeting people who have recently returned from holidays to Turkey.
It is believed the travellers may have left their contact details with businesses in Turkey which have somehow been passed on to the carpet seller.
The seller is contacting people by phone and claiming to have imported the rugs into Australia to sell but for various reasons has been unable to do so.
He says he cannot return the rugs to Turkey because it will be too expensive to pay taxes and is selling them at a huge discount.
Commissioner for Consumer Protection Anne Driscoll said victims have lost between $1,500 and $5,000 a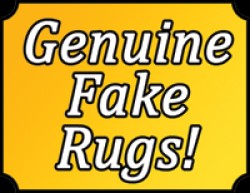 fter meeting the man and being persuaded to buy the rugs.
"Victims have told Consumer Protection the rug seller was very forceful and bullied them into purchasing the rugs," Ms Driscoll said.
"The seller is taking payment in cash and not offering a receipt or any form of documentation for the rugs which contravenes the Australian Consumer Law. Claims about the quality and authenticity of the rugs are most likely to be untrue.
"The seller is breaking door-to-door trading laws by not providing a ten day cooling off period which is required for any unsolicited sales over the value of $100."
Anyone with information should contact Consumer Protection or WA ScamNet.
Page created 16-4-15