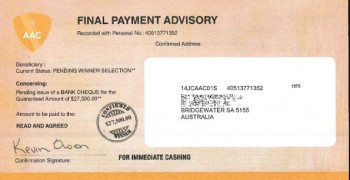 Have you ever received a letter making an offer that seemed too good to be true?
Every day someone receives a letter that includes an order form for dubious health products, clairvoyant predictions, the path to secrets of success (for a fee), or non-existent prizes and lotteries.
These tempting tactics of scammers have trapped a number of Western Australians.
In 2014 alone WA ScamNet has seized 346,000 letters promoting more than 100 scams. The letters were intercepted in a joint operation between Consumer Protection and Australia Post and have since been destroyed.
The number of items of scam mail has more than tripled from last year (2013), showing that although interception methods are improving, the postal scam business is also booming.
Overseas promoters are continuing to cash in on innocent people and are prepared to send enormous amounts of mail to increase their chances of getting a return.
Remember, if it sounds too good to be true, it usually is!
How to protect yourself from postal scams:
Always be cautious if you get an unsolicited letter making outlandish promises of easy money or big windfalls.
If you are in doubt about the authenticity of a letter:
Don't commit to anything. Instead call the company directly using their official customer service number to verify that it is genuine. Never use contact details provided in a letter, instead find the number via an independent source such as a phone book or online search.

Do not confirm or provide personal details, credit card numbers or other account information in a form unless you initiated the correspondence and trust the other party.

Report the scam letter to WA ScamNet so we can be on the lookout for more mail from the same sources.

Remember that you can still receive scam letters even if you have a private number and your details are not listed in the phone book. Scammers can obtain your address often fraudulently from other traders.
Know that responding to scam mail means you will be bombarded with more junk mail in the future.
If you send money or give scammers access to credit cards / bank account details you are simply helping these criminals to commit fraud.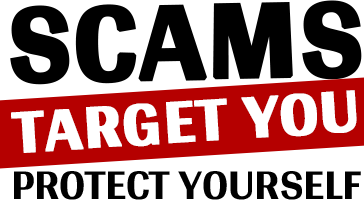 If you would like to be alerted of the latest scams in WA, please add your name and email address in the boxes below and click the red button to subscribe: