Each year the Department of Mines, Industry Regulation and Safety (DMIRS) – Consumer Protection Division (Consumer Protection), which operates WA ScamNet, receives a large number of enquiries concerning scam related problems.
Many of these enquiries are lower-level concerns where consumers wish to advise Consumer Protection of an email, phone call or some form of interaction they have had with a potential scam. These types of enquiries are dealt with by Consumer Protection's Contact Centre.
Other more detailed enquiries are managed by Consumer Protection's WA ScamNet team; these enquiries tend to be more detailed in nature often including situations where consumers have fallen victim to a scam.
The reports below detail a review of the enquiries Consumer Protection recieves over the calendar year.
2017 report - Number of victims for Apple iTunes cards scam doubles
In 2017 Consumer Protection's Contact Centre received over 6,500 calls and 25,000 emails regarding scam related matters. The top three subjects callers enquired about made up nearly one third of the total calls received; these were about: accident insurance; false outstanding tax debts or refunds; and scammers posing as Telstra.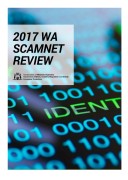 WA ScamNet received 911 contacts from Western Australians regarding losses incurred or concerns with scams in 2017. Of those 911 contacts, 398 (43%) reported suffering losses; losses ranged from small amounts under $10 through to $1 million.
As can be seen in Figure 2 below, the number of WA ScamNet contacts received in 2017 increased by 9.8% from 2016. While the total number of people reporting losses increased (7%), the overall proportion of contacts experiencing loss reduced slightly from 45% to 44%.
There was an 11% decrease in loss amounts reported to Consumer Protection in 2017. Contacts noted combined losses of $8,061,000, a fall from the $9,037,000 reported in 2016.
Read the full 2017 Scam Review report and the Department's 2017 media statement.
2016 report - WA victims lose $10 million to scams in 2016
The number of West Australians duped by scammers dropped by 17 per cent in 2016, with romance fraud still the most common type of scam despite a 34 per cent drop in victim numbers.
377 victims reported losing $10,057,015 to scams overall in 2016, with $4.1 million lost to relationship fraud.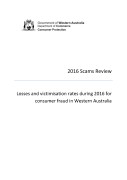 While most scam categories have seen a drop in both victims and losses, there are two categories that have seen huge increases in losses which is a cause for concern. Technology scams have seen a 17 per cent increase in victim numbers while the losses have almost tripled.
Scammers contact their victims usually by phone and pretend to be from a well-known telecommunications company such as Telstra, saying their computer has been hacked.

The other area of concern is the doubling of losses from investment scams to $2.6 million in 2016, even though there has been a slight drop in the number of victims in this category.

Read the full 2016 Scam Review report and the Department's 2016 media statement.
2015 Report - Cost of scams for WA victims halved in 2015
The number of West Australians falling victim to scams has dropped dramatically, with financial losses almost halving in 2015 compared to the previous year.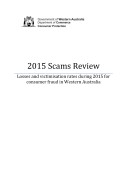 A total of 456 victims reported losing $9.8 million to scams in 2015, compared to 657 victims losing $16.8 million in 2014, a 42 per cent decrease in losses.
Despite the overall reduction in scam losses, other categories of scams went against the trend and increased in 2015, including:
accommodation scams, where bogus online advertisements trick prospective tenants or holidaymakers to make payments to scammers instead of the real owners
rebate and refund scams, as well as beneficiary and employment scams
tax debt scams where scammers leave a disturbing recorded message or make phone calls threatening to take legal action if the consumer did not pay a bogus tax debt.
Read the full 2015 Scam Review report and the Department's 2015 media statement.