Parcel delivery scams use different methods to get your money, your personal information or infect your device.
You might recieve an email or a phone call about an undelivered package. The scam pretends to be from a parcel delivery service like Australia Post or FedEx. In the case of the emails, they attempt to make it look legitimate by including your name and address and professional looking company information.
Online shoppers in particular need to watch out for fake parcel delivery scams arriving in email inboxes. With this type of scam being particularly effective during the holiday season.
The email scam
Apparently you have an "undelivered item" for which you may be charged a holding fee. You will be asked to open an attachment, click a link or download a file to retrieve your parcel.
DON'T CLICK ANYTHING - If you follow these instructions, you will likely download a ransomware virus that locks your computer. To unlock your computer, scammers demand payment in the form of 'bitcoins' (a form of online currency) or wire transfer. Even if you pay the fee, there is no guarantee that you will be able to access your computer again.
The phone scam
The scam caller claims to be someone from Australia Post, saying they were unsuccessful in delivering a parcel . They offer redelivery but you have to payment them a fee first.
The payment amount may vary and the scammer may ask for payment in a number of ways such as credit card or international wire transfer.
The scammer may also ask for personal information such as your credit card or bank account details.
HANG UP! If you are in doubt about the authenticity of a call, don't commit to anything. Instead hang up and call the company directly using their official customer service number to verify that it is genuine. Never use contact details provided by the caller, instead find the number via the Australia Post website.
Protect yourself
Australia Post will put a notice in your letter box if a package was undeliverable.
Australia Post will never call you out of the blue to request payment or send you an email asking you to click on an attachment.
If you receive an email about an undeliverable package, don't open any attachments or download files.
Do not click on links or download files in emails you receive out of the blue - especially if they are executable (.exe) files or zip (.zip) files. These files are likely to contain malware or ransomware viruses.
If you are suspicious about a 'missed' parcel delivery email, call the company directly to verify that the correspondence is genuine. Independently source the contact details through an internet search or phone book – do not rely on numbers provided in the suspicious email or provided by the caller.
Regularly back up your computer's data on a separate hard drive. If your computer is infected by malware or ransomware you can restore the factory settings and easily re-install all of your software and data.
If you have given money or personal details
If you think you have provided your banking or credit card details to a scammer contact your bank or financial institution immediately.
List of Scams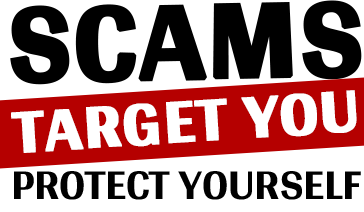 If you would like to be alerted of the latest scams in WA, please add your name and email address in the boxes below and click the red button to subscribe: