False billing scams request you or your business to pay fake invoices for directory listings, advertising, domain name renewals or office supplies that you did not order.
How this scam works
Your business might be sent an invoice, letter or invitation to be listed in a bogus trade directory or to renew your website domain name. Or the scammer might phone you out of the blue to confirm details of an advertisement booking or insist you've ordered certain goods or services. These scams take advantage of the fact the person handling the administrative duties for the business may not know whether any advertising or promotional activities have actually been requested.
Fake directories and advertising
Fake directory invitations will often include a form to be filled out and ask for your business contact details with an approval signature. You might be led to believe that you are responding to an offer for a free entry, but the form you are asked to complete is a disguised invoice or contract with the amount owed hidden in tiny print.
Alternatively, the scam might appear as a proposal for a subscription to a magazine or journal. These are often presented to look like those used by genuine directory publishers.
Another common method is for the scammer to phone a business asking to confirm details of an advertisement they claim has already been booked. The scammer might quote a genuine entry or advertisement your business has had in a different publication or directory to convince you that you really did use the scammer's product.
If you refuse to pay, the scammers might try to intimidate you by threatening legal action.
Domain name renewal scams
Australian website domain names are registered with accredited domain name registrars and resellers, and must be renewed every couple of years. All registrars and resellers of .au domains in Australia are accredited through the industry self-regulatory body .au Domain Administrator (auDA(link is external)).
Domain name renewal scams can work in different ways. You may be sent an invoice requesting payment for a domain name that is very similar to your current domain name – the scammer hopes that you don't notice the difference and just pay the invoice. For example, it may end in '.net.au' instead of '.com.au' or the '.au' at the end may be missing. It may even be for a domain name in another country, such as '.cn' for a China web address.
Alternatively you could be sent a letter that looks like a renewal notice for your actual domain name, but it is from a different company to the one you have previously used to register your domain name.
The sender may claim that another company is seeking to register the same domain name, but they are giving you the brief opportunity to secure the name first. You will be told your chance to use the domain name will end if you do not pay immediately.
Payment redirection scams
Using information they have obtained by hacking your computer systems, a scammer posing as one of your regular suppliers will tell you that their banking details have changed. They may tell you they have recently changed banks, and may use stolen letterhead and branding to convince you they are legitimate.
They will provide you with a new bank account number and ask that all future payments are processed accordingly. The scam is often only detected when your regular supplier asks why they have not been paid.
List of Scams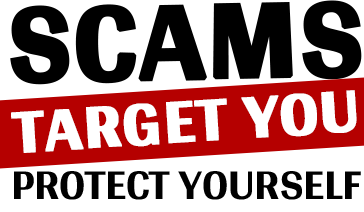 If you would like to be alerted of the latest scams in WA, please add your name and email address in the boxes below and click the red button to subscribe: