Phishing scams are attempts by scammers to trick you into giving out personal information such as your bank account numbers, passwords and credit card numbers.
How does this scam work?
A scammer contacts you out of the blue pretending to be from a legitimate business such a bank, telephone or internet service provider. You may be contacted by email, social media, phone call, or text message.
Clues for spotting a fake email
The scammer asks you to provide or confirm your personal details. For example, the scammer may say that the bank or organisation is verifying customer records due to a technical error that wiped out customer data. Or, they may ask you to fill out a customer survey and offer a prize for participating.
Alternatively, the scammer may alert you to 'unauthorised or suspicious activity on your account'. You might be told that a large purchase has been made in a foreign country and asked if you authorised the payment. If you reply that you didn't, the scammer will ask you to confirm your credit card or bank details so the 'bank' can investigate. In some cases the scammer may already have your credit card number and ask you to confirm your identity by quoting the 3 or 4 digit security code printed on the card.
Phishing messages are designed to look genuine, and often copy the format used by the organisation the scammer is pretending to represent, including their branding and logo. They will take you to a fake website that looks like the real deal, but has a slightly different address. For example, if the legitimate site is 'www.realbank.com.au', the scammer may use an address like 'www.reallbank.com'.
If you provide the scammer with your details online or over the phone, they will use them to carry out fraudulent activities, such as using your credit cards and stealing your money.
List of Scams
These days, it pays to be extra vigilant on social media. Like-harvesting, or like-farming as it is also called, is a scam perpetuated throughout Facebook and features bogus pages designed to do nothing more than "harvest" your likes.

Read More...

Scammers are taking advantage of fears surrounding COVID-19 to deceive victims into handing over their money and/or personal information, so it's important to be extra vigilant.

Read More...

Businesses are often targeted by scammers hoping that busy firms may sign invoices without checking their authenticity. Sometimes these fake invoices are for a listing in a publication which the business hasn't ordered.

Read More...

A fake online questionnaire claiming to be from popular chemists are doing the rounds. People receive a link to the survey, which may even appear to be sent by a friend or family member.

Read More...

Fake 'suppliers' are targetting WA organisations, providing 'new' bank account details for payments and stealing the money.

Read More...

Scammers posing as NDIS providers are calling and requesting personal information and banking details.

Read More...

Tax time could really be taxing if you give out personal details to scammers impersonating the Australian Taxation Office (ATO). WA ScamNet has renewed its warnings about fake tax communications after fresh reports of emails claiming to be from the ATO. Do not click on any links. Just delete it.

Read More...

Opportunistic scammers are attempting to trick people into giving personal information to potentially steal their money or identity.

Read More...

Fake web pages claiming Qantas is giving away two free first class tickets for their 96th anniversary are being shared on social media.

Read More...

Qantas Frequent Flyers should be aware of a bogus email to 'complete the survey' and 'claim a reward' - it a phishing scam.

Read More...

Scammers are offering compensation for a car accident in an attempt to obtain personal information from victims.

Read More...

Students are being warning about an online blackmail scam, whereby scammers are trying to extort money from students visiting essay chat forums. Scammers gain personal information and create spoof emails from universities in order to trap students into paying up big bucks.

Read More...

WA ScamNet regularly receives reports about scam emails that claim to be from the Australian Tax Office (ATO).

Usually the email's offering a tax refund or it might be asking you to update your details.

The body of the email will ask you to click a link – never do this as this is how the scammers will get your details.

Read More...

Scammers are pretending to be Commerce officers in email and phone scams.

Read More...

Consumer Protection and WA Police have issued a joint warning to real estate agents after scammers tried to sell a Perth home without the owner's knowledge. An overseas organised criminal network began the process of selling the home by emailing the Property Manager, using a fake email address which mirrored the true owner's name. Thankfully the agent followed WA Government guidelines which were introduced following the fraudulent sale of a Karrinyup home in 2010 and a Ballajura home in 2011.

Read More...

Beware of "voucher prize" scam text messages. Do not to respond to text messages which claim you have won a voucher, In fact you may be entering into an expensive mobile premium SMS service.

Read More...

An SMS competition or SMS trivia scam usually arrives as a text message and may encourage you to enter a competition for a great prize.The scammers make money by charging extremely high rates for the messages you send, and any further messages they send to you. These charges could be as high as $4 for each message sent and/or received.

Read More...

Telemarketing or 'Cold calling' is an unexpected or unsolicited telephone call offering investments or financial advice. The investments they offer usually guarantee high returns or encourage you to invest in overseas companies.

Read More...

What a cheek! Cyber criminals aim to steal your identity by putting out an email confirming your "complaint" about identity theft!

Read More...

An email arrives confirming your order for a lap top computer or other product or service. The email attachment provides further details of your order. Hang on! You haven't ordered a laptop. You click on the attachment to find out more information, fearing that somebody has stolen your credit card information to place the order. And that's exactly what the scammers are relying upon

Read More...

Con artists posing as employees and senior executives of the Hang Seng Bank are trying to rope you into becoming a 'partner' in a business transaction.

Read More...

The operators of these sophisticated scams use a well-known legitimate job vacancy website to hook you in to revealing your details.

Read More...

Scammers are using the names, brands and logos of well-known companies, including courier services, to hook you into advance fee fraud and lottery swindles.

Read More...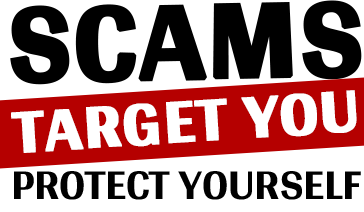 If you would like to be alerted of the latest scams in WA, please add your name and email address in the boxes below and click the red button to subscribe: