Webcam Blackmail Scam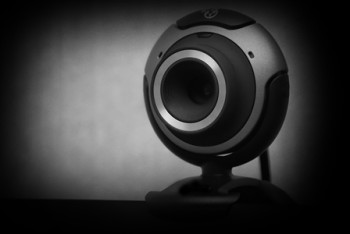 We know scammers love spyware so they can see what people are doing on their computers – now they're going one step further and using webcam photos or videos to blackmail victims.
There are two ways this scam works.
1) Ransomware
It's a new version of the AFP computer seizure scam where a pop-up message claims your computer has been frozen by the Australian Federal Police and you need to pay a fine by Ukash to unlock it.
WA ScamNet understands the scammers activate the pop-up through keywords that people might feel guilty about typing e.g. naked, porn etc. or in response to illegal downloading of music or movies.
Recent reports from those affected by the AFP computer seizure scam indicate the scammers have switched on the victim's webcam remotely and photographed them. The photo is then displayed in the pop-up warning which falsely claims to be from the AFP.
One worried mum called WA ScamNet after her 13-year-old daughter's photo was taken when the family computer became infected with the AFP ransomware virus.
It's unclear if the scammers are storing the photos and using them for other purposes, however on the face of it, it appears to be an extra scare tactic to encourage quick payment of the bogus fine.
Never negotiate with scammers and do not pay them as it's likely they will come back for more money.
If your computer is locked, use an alternative device to Google or YouTube search for a step by step process to unlock it. If that doesn't work speak to a local computer technician.
To stop your webcam being accessed without your permission by hackers, unplug it when it's not in use or cover the lens with a piece of paper and some sticking tape.
To avoid your computer being compromised in the first place never click links unless you 100% trust the source or type the url (web address) into your browser rather than clicking through.
Keep your protection software like anti-virus, anti-spyware and firewall up-to-date.
2) Blackmail using webcam footage
WA ScamNet has had at least two reports from men targeted in this way and they involved unmet demands for payments between $500 and $3000.
The scammers use dating websites or social networking sites like Facebook to contact victims.
The scammers will ask to be added to friends or family contact lists to give them access to email addresses or social media account details of the victim's mates and relatives.
After building up a friendly or romantic rapport with the victim the scammers move the conversation to video chat (Skype, Yahoo messenger etc.)
If it's a romance scam, the victim may see a scantily clad man or woman – usually the scammers are broadcasting images or footage of a person who does not know their identity is being used in the scam. For this reason corresponding conversation may be via text chat.
The scammers convince the victim to strip or act in a sexual manner on webcam and use software to record the footage.
Next comes the blackmail part: a request for money to prevent the footage being released publicly on a video sharing website and/or sent to the victim's family and friends via social media or email.
The emotional toll on the victims can be immense due to fear of embarrassment.
With teenagers the videos may involve the person bearing their soul or discussing sensitive issues such as sexuality. Media reports in the UK have linked a webcam blackmail scam to the apparent suicide of a 17-year-old boy. Read more at: bbc.co.uk
If you are targeted in a webcam blackmail scam:
do not send any money (if you do the scammers will come back for more and more)
contact Consumer Protection on 1300 30 40 54 to seek help from WA ScamNet – you can stay completely anonymous if you wish
make a note of Skype names or Facebook profile details as we'll need to report those
don't panic if a video is uploaded – reporting it to YouTube or the sharing website is easy and it will be taken down very quickly.
WA ScamNet can also give you tips on how to search for and find the video if you don't know where it's located or if you want to make sure it doesn't reappear online.
Page created: 3 September 2013