PayPal security email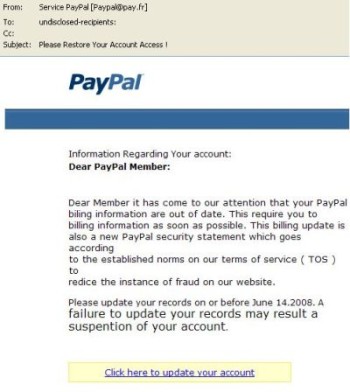 You receive an email purportedly from PayPal claiming your account has been suspended until you verify your account details.
The email reads: "In accordance with PayPal's User Agreement and to ensure that your account has not been compromised, access to your account was limited.
"Your account access will remain limited until this issue has been resolved. To secure your account and quickly restore full access, we may require some additional information from you."
The email states that you need to confirm your PayPal information by going directly to a website listed or to click on the link attached.
This is a typical phishing email sent by fraudsters in an attempt to collect sensitive personal or financial information from you.
There are numerous variations of this scam including one asking to confirm whether you have added a certain address to your account.
Please, update your personal information!
Dear Value Customer,

From Monday, 05.12.2011 until Friday, 09.12.2011, we conducted a detailed review of our security measures, to improve the security of online transactions. Please update your personal information to avoid future problems with your account.

Confirm my account & detail!
All accounts are considered inactive will be suspended without notifying the owner.
Thanks,
PayPal
According to PayPal's website, PayPal and its representatives never ask their customers to reveal the following information:


Credit and debit card numbers

Bank account numbers

Driver's License numbers

Email addresses

Passwords

Your full name



If anyone claiming to work for PayPal asks for your password under any circumstances, by email or by phone, refuse and immediately contact PayPal via their secure webform online.If you have fallen for this email and provided personal information, PayPal advises you to immediately log into your PayPal account and change your password, security questions and answers. If you notice any unauthorized activity on your PayPal account, contact PayPal. You should also contact your bank and credit card company immediately.

For additional tips on safety, visit the PayPal Security Centre at www.paypal.com/security .
Spam, or electronic junk email, is a Federal offence. If you have been a target of spam please contact the Australian Communications and Media Authority (ACMA) at www.acma.gov.au . You can also download and install ACMA's SpamMATTERS on your computer which allows you to simultaneously delete the spam and report it to ACMA with one click of your mouse.