WA ScamNet is receiving increasing reports of scammers impersonating staff from Amazon and its streaming service Amazon Prime.
The calls and messages are a phishing scam to try to lure consumers out of their banking and personal information.
They claim to be from Amazon/Amazon Prime (and sometimes a bank or eBay) and say they have noticed a charge on your account, and require your bank details in order to delete it.
Victims who hand over their banking details (and sometimes ID) will then have money debited from their account.
How the scam works:
Phone calls
A random phone call comes through with voice recording stating they are calling from Amazon Prime and that your account has been renewed for $39.99. The recording then tells you to 'press 1' to dispute.
Pressing 1 will take you through to someone who purports to be from Amazon Prime Support and can assist with removing the membership.
Consumers are asked to download the 'Team Viewer' app on their phone or computer, which will give the scammers remote access.
The scammer will then tell the consumer to log in to their bank account so that 'Amazon' can process a refund. Undertaking this step allows the scammer to watch you log-in, giving them access to your bank account details.
SMS
Consumers receive a random SMS on their phone stating that an order has been confirmed and payment submitted for a particular item (usually a computer, camera or phone). The message gives a phone number to call if the consumer wants to dispute it.
If the consumer calls the number, they are asked to confirm if they had made the order, and if not, they need to hand over their banking details so that the order can be cancelled.
Consumers give their details and then have amounts debited from their cards.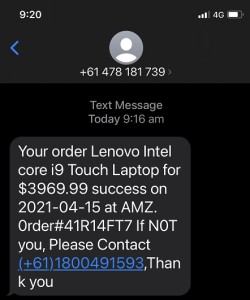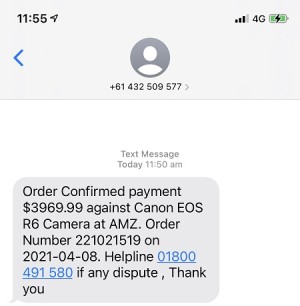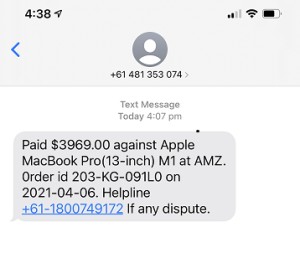 How to protect yourself:
Be suspicious of random SMS' or calls that want you to call a number or click on a link .
To check if a call or message is genuine, find the legitimate contact details for the company and contact them yourself – DO NOT USE DETAILS GIVEN IN SMS.
Be careful with your personal and banking information – do not give out to entities you do not know or trust.
If you have provided your financial information, contact your financial provider immediately.