Car crash compensation phone scam
What this scam involves
As with so many scams, this one starts with a phone call you weren't expecting.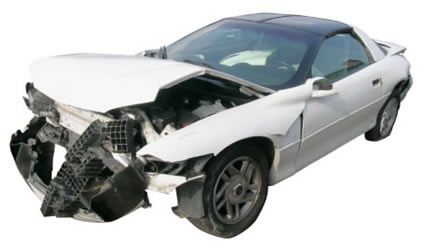 The caller wants to speak to 'the person involved in the car accident' supposedly to help them with their compensation claim.
They may pretend to be from an official-sounding organisation, using names such as 'Road Accident Helpline' or 'Accident Investigation Department'.
It is clear the scammers ring lots of people in the hope of striking lucky and reaching a person who has coincidentally been in a road traffic accident recently.
There have been reports of the scammers suggesting that the accident they are calling about is historic, for example one or two years earlier. We think this is to widen the net and reach more potential victims.
Sometimes the scammer mentions the dollar value of compensation meant to be available, this has been as a high as $15,000. In one call the scammer said there was $3,000-$4,000 owed to the person in the household who had been in an accident and that all that was required to access the money was a date of birth and address. Unfortunately the lady HAD been in an accident and gave those details. She was told she would receive paperwork, which never arrived. When she called back the number given (07 3171 3572) it was disconnected.
On the face of it, it appears that the aim was to get the woman's secure personal information. The scammers may already have some other information and these missing components will complete a jigsaw for them so that they can try to commit identity theft. Alternatively, it is highly likely the woman will be listed on what's known as a 'sucker list'. This is a database containing the contact details of people who would be likely to fall for a scam. These lists are sold cheaply to scammers who are looking for people to target and defraud.
So far we haven't recorded any monetary loss in relation to this 'accident helpline scam' and we'd like it to stay that way.
The scam caller generally hangs up if the person on the other end insists they have not been in an accident and refuses to give any personal details. This is the best thing to do.
Insurance Commission of Western Australia (ICWA)
Cold calls are being made to members of the Western Australian public by people pretending to be from a crash investigation company acting on behalf of The Insurance Commission of Western Australia (ICWA).
The caller attempts to obtain personal information supposedly for referral to an injury claims or compensation service promising the call recipient financial gain.
ICWA advises the calls are NOT solicited by them and that any claimant's personal details are provided to ICWA via its Online Crash Reporting Facility and claim documentation NOT via phone through a third party. They have posted a warning about these scam types.
WA ScamNet believes this is a phishing scam with the potential for identity theft if the target provides the requested information.
Hang up on anyone who calls saying they are from Accident Helpline.
What can you do?
As with any out-of-the-blue phone call, where you are offered something you weren't expecting, take the following steps:
Do not give any personal information about yourself or family;

Ask for the caller's name, the name of the business or organisation they are calling from and a phone number to return the call and write them down;

Carry out some independent checks, such as looking in the white pages or searching the details online. This is usually a good way to reveal that something is a scam; and

Call WA ScamNet on 1300 30 40 54 if you need any further advice.
Please share this warning with others, either using the social media sharing buttons below, by word of mouth or even printing this warning and putting it on a notice board.