Variations of a fake purchase phishing scam involving text messages and phone calls that attempt to lure consumers into providing their banking and personal information have been reported to WA ScamNet.
Scammers claim to be from either PayPal, Amazon, or the Amazon Prime streaming service. They may also claim to be from a bank or eBay. The scammer will tell you they have noticed a suspicious transaction on your account and that you are required to immediately make contact to dispute the transaction.
Victims who make contact with the scammer using the telephone number or link provided in the text message are asked to provide their personal and banking details, following which money is stolen from their bank account.
How the scam works:
'PayPal' scam
You receive a text message on your phone allegedly from PayPal, stating an order has been confirmed and payment made for a particular item.
A phone number is included to dispute the payment and if you call the number you be will connected to a scammer who will ask for your bank details so that the 'order' can be cancelled and a refund processed.
This in fact does not occur and when your bank details are handed over, you will have money stolen from your account. Screenshots of this scam are below: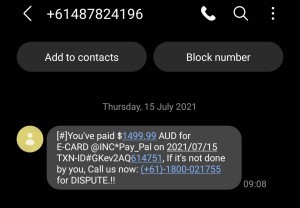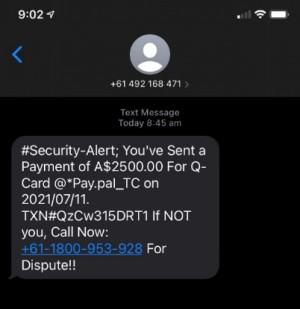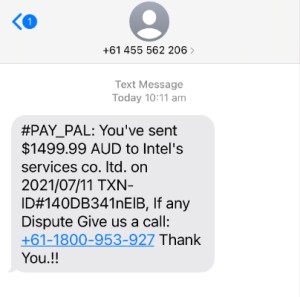 'Amazon' or 'Amazon Prime' scam
Phone calls
You receive a phone call with voice recording that states they are calling from Amazon Prime and that your account has been renewed for $39.99. The recording then tells you to 'press 1' to dispute the transaction.
If you press '1', you will be redirected to a scammer who claims to be from Amazon Prime Support and can assist you with removing these fees.
You will then be asked to download an app called 'Team Viewer' onto your phone or computer. If you do this, the scammer will then have access to remotely control your phone or computer.
Once the scammer has remote access, they will tell you to log in to your bank account so that 'Amazon' can process a refund. If you follow their instructions the scammer can see you log-in, and that will enable them to access your bank account and steal your money.
Text messages
You receive a text message stating that an order has been confirmed and you have paid for a particular item (usually a computer, camera or phone).
The message provides a phone number for you to call if you want to dispute the purchase.
If you call the number, you will be asked to confirm that you submitted the order, and if you didn't, then you need to provide your bank details so the order can be cancelled.
If you provide your bank details to the scammer, money will be stolen from your bank account. Screenshots of these scams are below: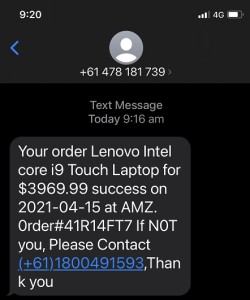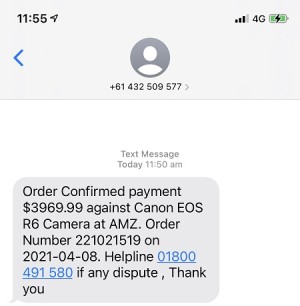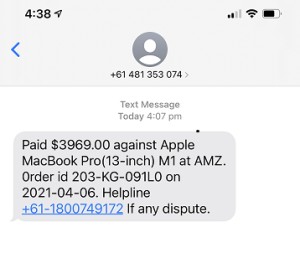 How to protect yourself:
Be suspicious of random text messages or calls that want you to call a number or click on a link.
To check if a call or message is genuine, find the legitimate contact details for the company having done your own research, and contact them yourself – DO NOT USE DETAILS GIVEN VIA SMS.
Be careful with your personal and banking information – do not give account details out to people over the phone or download any applications to your phone which inadvertently grants them access.
If you do get caught out in scams like these, immediately contact your bank or financial institution to try and block the payment.
If you have provided your personal information (or have concerns about identity fraud) contact ID Care 1800 595 160
Lodge a cybercrime report with Australian Cyber Security Centre (ACSC)