12 August 2020
Scammers posing as electronics retailer JB Hi-Fi are sending SMS messages claiming there is a 'giveaway' that expires soon – but be warned, it's nothing more than a phishing exercise to get hold of your credit card details.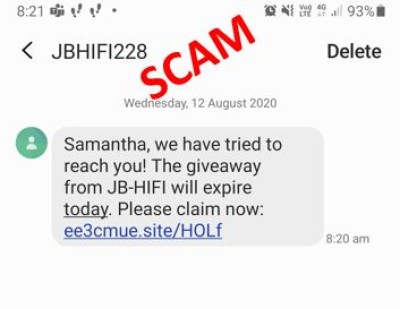 The SMS contains a link that takes you to a 'survey' branded with JB Hi-Fi logos that once completed claims you have a won a free iPhone 11.
However, there's a catch – in order to receive the free iPhone you need to pay $1 for shipping via credit card.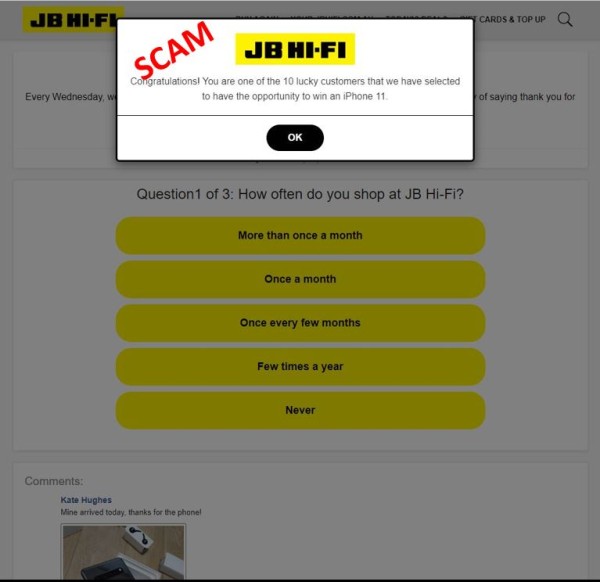 How to protect yourself:
Do not open or click on links in suspicious or unsolicited emails (spam) or text messages – delete them.
Get in touch with the legitimate company, using its official contact details, to check if an offer is genuine.
Look out for signs that a website may not be genuine, including spelling errors, low-resolution images or an address that is unusual or different from a company's authentic website.
Never enter your personal, credit card or online account information on a website that you are not certain is authentic.
If you have paid, keep an eye on your credit card statement for any strange transactions – otherwise contact your credit card provider and request your card be cancelled and a new one issued.
Visit our WA ScamNet website for help and advice at www.scamnet.wa.gov.au, call us on 1300 304 054 or complete the Report a Scam form.