Energy company email scam - payment of overdue accounts
AGL has issued a new website warning about scam emails pretending to be them.
Meanwhile Alinta Energy has also been impersonated by email scammers. Alinta advises on its website that they will never ask for your personal or payment details via email. Anyone who receives a suspicious Alinta email can call 13 37 02.
Previously WA ScamNet warned that consumers were receiving scam emails claiming to be from either Horizon Power or AGL regarding payment of electricity bills.
Horizon Power, who supply to regional WA, advises customers to ignore any Horizon Power branded emails asking for payment of outstanding bills.
In the case of the AGL scam, it contains a link to view the bill or to view more details and may appear similar to the image below.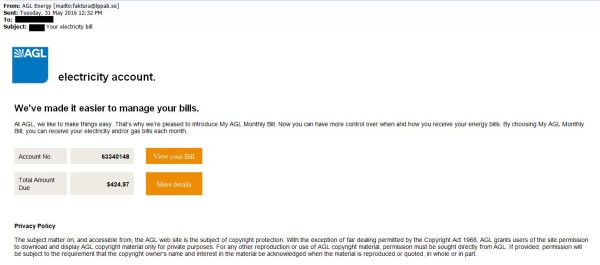 Another indication that the email is fake is the international appearance of the senders email address denoting its country of origin and the lack of the AGL name in it.
Some of the emails received appear like
Angelika.Miszori@blv.de (Germany)
faktura@lppab.se (Sweden)
info@dmdsrl.it (Italy)
In June 2016 AGL has placed an alert on its website that the scam was circulating.
The nature of the bogus email aims to gain personal information by requesting details:
Your AGL energy bill is overdue and you need to share your credit card or bank account details to avoid being disconnected; or
You've been overcharged and we need your credit card in order to refund you.
AGL has confirmed with their legitimate customers that they will never send emails asking for personal banking or financial details.
How the scam works:
You receive an email supposedly from a reputable energy company claiming that you owe them money.
The email may appear to come from a department like 'Accounts Receivable Team' or 'Accounts Payable'.
The email may contain the subject title 'Your AGL Bills Update'.
The email may or may not be from your current energy provider.
The email may claim that you have exceeded your energy consumption limit and need to pay, or even that you are eligible to use a discounted energy tariff if you click on the link.
The email may direct you to click on a link or view your account, pay your bill or download an attachment.
If you click the link, your computer may be infected with malicious software and your identity compromised.
If you 'pay' the amount, you will lose your money and may have your credit card details stolen.
Fight Back
Consumer Protection's advice, if you receive a suspicious email for outstanding energy usage bills from a company you are not subscribed to or does not operate in WA, delete it immediately without opening it.
If you are unsure whether the email is a scam, contact your energy provider with the contact details from their website or the phone book, NOT from the suspicious email.
You can also check the registration of legitimate energy companies servicing WA on the Economic Regulation Authority website.
If you have provided your details via an email and believe you may have been a victim of scam/fraud, please contact your financial institution immediately.
Page created: 3 June 2016
Page updated: 27 October 2016