Employment Protection Australia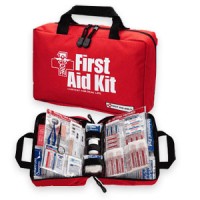 To The Manager
It is now REQUIRED by law that all employers and workplaces have an Occupational Safety and Health compliant first aid supply."
Fair enough. What's this? "Failure to comply may lead to fines of up to $25 000."
"We strongly advise you purchase the comprehensive 'Place of Employment First Aid Supply'... (for $259)."
Hundreds of Western Australian businesses received official-looking letters referring to the Occupational Safety and Health Regulations Act (huh?) 1996 threatening dire penalties for failing to have Employment Protection Australia's 'Place of Employment First Aid Supply.' So what's the problem?
The head of Worksafe in Western Australia warns that the official looking letter for an expensive "one-size-fits-all" first aid kit is misleading First Aid Kit Letter Misleading.
Consumer Protection is investigating possible breaches of the Fair Trading Act by the Western Australian company Employment Protection Australia Pty Ltd Unsolicited Sales Letter For First Aid Kit.
If you have received a letter from "Employment Protection Australia," ring the Consumer Protection Call Centre on 1300 30 40 54. Your call will be redirected to an investigator.
For advice on suitable workplace first aid requirements, contact Worksafe on 9327 8777.