Simply Energy email bill scam
Be on the look-out for bogus bills sent by email attempting to fool customers into opening documents which may contain malware.
The emails are claiming to be from Simply Energy, an Eastern States business, which do not supply services to Western Australia.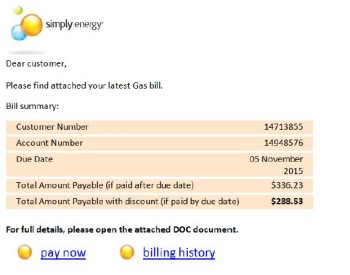 Simply Energy has published a statement on their website, warning customers to ignore and delete the message.
The email has a subject line beginning with: "Your Simply Energy eBill".
The messages all contain a Microsoft Word document attachment with a name beginning with "Energy Billing Details . . ." The email looks legitimate with coloured logos and professional layout.
If you receive this email do not open the attachment as it may well contain malicious software (malware) which may damage your computer or leave you open to fraud.
These emails often regenerate in the forms of similar companies so be cautious on any emails or bills from suppliers you are unfamiliar with or using unusual timing or format to your normal communication. WA ScamNet saw a similar scam in 2014 – Bogus electricity scam.
WA ScamNet's advice is to simply delete any emails like this. If you are unsure, contact the company directly with their details on your contract or from reliable sources like White Pages – do not use any details provided in the suspicious email.
Simply Energy's customers are encouraged to call their contact centre number if they have any concerns on 13 88 08.
If you have any concerns about scams, please contact Consumer Protection by:
email or
calling 1300 30 40 54
Simply Energy do not provide services in Western Australia.
You can read more information about email scams and how to avoid their traps.