last updated May 2020
WA ScamNet received a report via CrimeStoppers where a victim has lost $5,700 when trying to purchase a French Bulldog.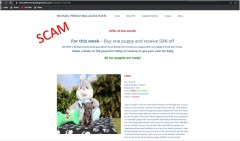 The victim searched in Google for French Bulldogs and came across the site: https://michaelfrenchbulldogshome.com/Available-Frenchies
They requested pictures of the puppy that they were interested in from the website. They were provided with many pictures so decided to go ahead with the purchase and made a payment for the puppy and for its delivery.
They were directed to the site https://www.pacificpetrelocators.com  who advised her that she needed to pay for a crate for the puppy and once the puppy arrives, she will be refunded that money for the crate.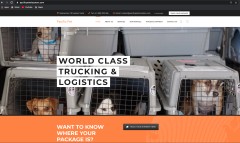 They paid this amount but were then asked for payments to cover vet bills, which would also be refundable, which seemed strange. It was at this stage that they became suspicious.
They then asked for a refund and were advised that a refund would be processed within 5-7 days. This was 3 weeks ago. The websites now do not respond to the victim.
Signs that the website was fake were:
The pictures taken from multiple sites
Hugely discounted prices
No contact information – there is only online form
Request bank transfers only
Grammar and spelling mistakes
Warning signs that Pacific Pet Relocators is a fake website were:
The location for the company is that of a different legitimate company
The testimonials were fake and taken from other sites
The "About Us" information was also taken from other legitimate websites
Apparently the company had been in business since 2009, but their website was not even a year old.
Another puppy scam has been reported, this time using website ouzziepuppy.com.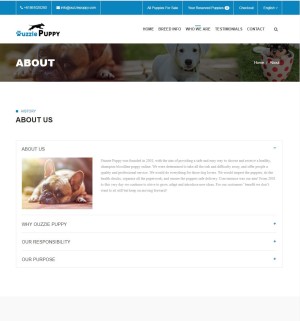 The victim found the website online when searching for French Bulldogs and paid $2,500 via bank transfer. The delivery company email was also a fake, using the name Aussie Jet Pet Animal Transport, which is not a real company.
We have requested that the website be removed and the bank account has also been reported.
The fake website features some of the common tell-tale signs that it is not a legitimate page:
the pictures that the site is using are found on many other websites;
the address is a residential address;
they claim to have been in business since 2001 although domain age is 43 days;
they included fake puppy transport information in an attempt to make it look like a legitimate company;
they only accept bank transfer; and
they have no registered ABN.
Bulldog puppies are the subject of puppy scams yet again. This time, these highly sought after pups were advertised on a fake website, Bulldogs For Sale Online.
A fake website is advertising Bulldog puppies for sale online. These puppies are being advertised for $3000.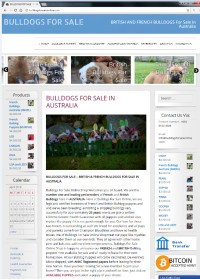 No losses have been reported to WAScamNet yet. The website has been reported and pending shut down.
This recent fake website has some of the common tell-tale signs of a suspicious website:
The contact number on the website is disconnected;
No response was received to an email enquiry sent to the email address;
Methods of payment listed are common for scammers (Western Union, Moneygram, Bitcoin and Bank Transfer);
The shipping times are not realistic (3-5 days shipping to another US, UK, Canada or New Zealand);
The dog images can be found on other websites and the image backgrounds are not consistent;
The seller claims to be ANKC (Australian National Kennel Council) registered. The ANKC is the over-arching body that oversees the individual state member bodies (such as Dogs West), it does not provide registration. The state members provide registration services; and
No breeder registration number is provided on the website.
WA ScamNet has received a new report involving bulldog puppies with a loss of $3000 reported. The consumer responded to a Facebook post on "Bulldogs For Sale Australia". The page asks the consumer to make contact via email on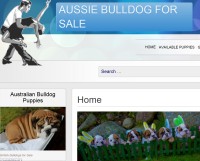 aimee.teikake@gmail.com to discuss the purchase of a puppy.
When the consumer sent the email, she was provided with pictures of a puppy and believed that the puppy was to be delivered within a few days, but that $3,000 was needed to be paid upfront.
The consumer paid $3000 into a Commonwealth Bank account and has now reported the transaction in order to attempt to recall the funds. The Facebook page has been reported and is pending shutdown, and the website http://aussiebulldog.net/ has also been reported.
A consumer paid $2400 for a puppy and had not received it. The consumer's friend then contacted the 'seller' and was told the puppy was still available and payment should go into a new bank account.
The fake website claiming to be an authorised English and French bulldog puppy breeder has since been reported to the website host and has been taken down.
Tips for buying a puppy
There are legitimate sellers who advertise puppies for sale on websites but doing a little research to verify their identity first is advisable before money is sent. This includes checking for registered breeders by searching the Canine Association of Western Australia's site at www.dogswest.com.au
For more tips on buying puppies and other pets, see Consumer Protection's guide to buying a pet and WAScamNet Tips for Pet-Buyers. The RSPCA also provides the Smart Puppy and Dog buyer's guide, which suggests visiting the place where the puppy was born and meeting the puppy's parents.