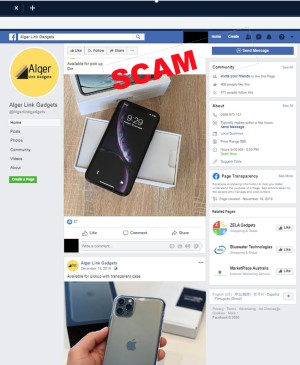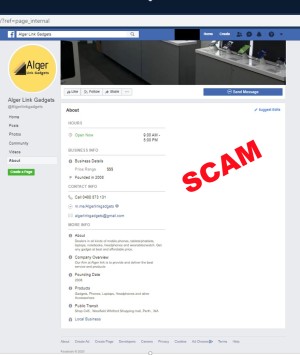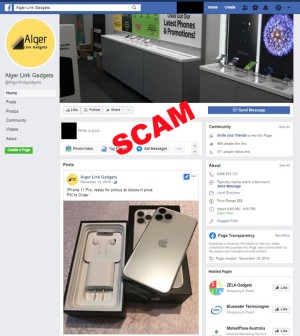 WA ScamNet is warning consumers about fake online stores on Facebook featuring the latest mobile phones for sale at heavily discounted prices. The Facebook pages will even use logos, ABNs, store locations and other details of legitimate companies to convince victims to make payment.
Scammers are using Facebook Marketplace to advertise the discounted mobile phones and then direct the victims to the fake stores Facebook page in order to complete the purchase. Payment can only be made through bank transfer and once completed, the scammers cease contact and do not deliver the goods. Victims are then contacting the legitimate stores demanding phones be supplied only to be told they have been scammed.
WA ScamNet has received reports from victims losing money to the fake Facebook page Alger Link Gadgets. They claim to have a location at the Westfield Whitford City Shopping Centre but this is not true. The page has since been removed by Facebook.
What can consumers do to protect themselves?
Consumers are advised to be cautious when purchasing goods online:
Be wary of websites selling goods well below market prices.
Be wary of online retailers who accept bank transfers as their only method of payment.
Use payment methods such as credit card or PayPal which allow you to dispute transactions when you do not receive the goods or something else goes wrong.
Take the time to locate the real website of the legitimate business and contact them independently to verify their offer is genuine.
Do an internet search of the website and business to get comments and reviews from other consumers who have used the same site.