Warning about sales websites as scam investigation continues
Western Australians are urged not to place orders with websites onsalemarketdeals.com or directonlinedeals.com.au while WA ScamNet investigates the online businesses.
Indications are that the websites are fraudulent, prompting an early warning to prevent consumer detriment.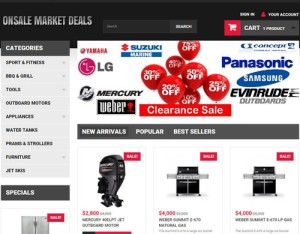 A WA couple lodged a complaint with Consumer Protection on Friday 22 January 2016 after paying $503 for a barbecue from onsalemarketdeals.com about two weeks ago and finding they were then unable to contact the site about their purchase when it wasn't delivered. They had paid by direct bank transfer after the site suggested this as the best method, however this later rang alarm bells for them.
Investigations have revealed a number of issues with onsalemarketdeals.com, which claims to offer for sale: appliances, barbecues, exercise equipment, furniture, jetskis, outboard motors, prams and strollers, tools and more. These problems include:
the site was recently registered (late December 2015) and has no established reputation;
the ABN used belongs to a company in Queensland, which appears to be unconnected;
the site claims to be shipping from Victoria but gives an address in South Australia;
the site uses a mobile number belonging to a NSW resident who claims to have no knowledge of or connection with the site;
the site has elements which are consistent with it being fake, such as slightly pixelated manufacturer logos and significant price reductions with free shipping included; and
a search of consumer review websites reveals claims of payment but non-receipt of goods by a number of customers.
Attempts to shut onsalemarketdeals.com website down have so far proved unsuccessful due to the domain name being registered in the United States.
WA ScamNet have also found an almost identical website, which appears to be run by the same suspected scammers. The website directonlinedeals.com.au was registered on the same date and in the same place as onsalemarketdeals.com. It also uses an ABN registered by someone who has confirmed, in writing to WA ScamNet, he has no association with the site.
As of 4 February 2016, Consumer Protection's application to have directonlinedeals.com.au taken down has been successful and onsalemarketdeals.com has been suspended.
Although the investigation is yet to conclude, the early warnings are appropriate to prevent consumer detriment
WA ScamNet are making enquiries with Eastern States counterparts as well trying to shut this website down.
If you or anyone you know have already purchased items from one of these sites please report it to WA ScamNet via email.
You can also report any financial loss from this scam to the Australian Cyber Security Centre so they can report the details of any accounts being used for money transfers to the relevant law enforcement agency.
WA ScamNet's advice to keep your money safe:
Online shoppers should:
only purchase from well-established reputable online retailers;
be wary of online retailers who accept bank transfers as their only method of payment;
use secure online payment systems. Look for a padlock and https:/ in the web address when entering financial information to make sure your details are secure;
be wary of websites selling goods well below market prices; and
do an internet search of the website/business name to get comments and reviews from other consumers who have used the same site.