Door to Door Digital TV Sales
Analogue TV is being phased out in WA from April - December 2013 but there are already concerns about door to door traders offering overpriced digital conversion equipment to Western Australians who do not understand the technology.
At the very start of the switchover a couple of years ago the Eastern States reported some dodgy sellers offering overpriced TV conversion equipment or falsely claiming to represent the Government and promoting non-existent grants or rebates. Thankfully there have been no such instances in WA.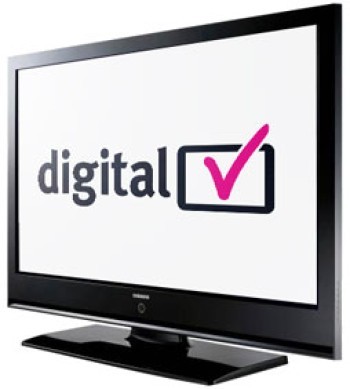 Although there is a Commonwealth Government household assistance scheme for the elderly and people with disabilities, those who are eligible will be notified by Centrelink. There will not be any rebates for products bought from door to door sellers or retail outlets.
Become digital ready
Analogue TV was turned off in Perth on 16 April 2013, and regional and remote Western Australia on 26 June.

There are a few reasons why Australia's going digital and the benefits to TV viewers will include more-free-to-air channels; access to electronic program schedules on your TV; and better quality viewing known as high definition. More and more overseas programs are being made in digital format only, so it means you will be able to watch these international shows. Of course you'll need to be digital ready.

Most antennas receive digital signals without any problems, especially those made after 2000. However, your equipment may need to be upgraded to receive a reliable digital signal e.g. if you had poor reception already. In this case make sure you use an endorsed antenna installer – you can find a list of local endorsed antenna installers on the dedicated Government website: www.digitalready.gov.au by using the postcode search facility. Alternatively, call the official Digital Switchover Taskforce on 1800 20 10 13 – there are digital advisers specifically for your area.

As long as your antenna is OK you just need to choose from the following options:

1) Buy a Digital Set Top Box (they retail for as little as $40). You should carry out some research e.g. ask friends and family for a brand/model recommendation. Also use the internet to do some homework. For example, CHOICE has done a review of set top boxes priced between $69 and $109 which you can access through their website.

2) Buy a Digital TV Recorder – they're a bit more expensive than set top boxes. You should carry out the same research you would if you were buying a set top box.

3) Buy a new TV with a built-in tuner. It'll have a sticker on to advise that it's digital ready. This is obviously the most costly option and should also involve some homework and shopping around before you select a brand/model and place of purchase.

You may be eligible for the Commonwealth Government household assistance scheme which helps fund the upgrade of your TV and is now open in Perth and WA. It's for the elderly, veterans and those with disabilities. You should have received a letter direct from Centrelink to advise you if are entitled to this help – we understand they were posted out toward the end of 2012. If you've had this letter and haven't yet applied you need to do so as soon as possible to benefit from the scheme. If you haven't received a letter and think you should have, you can call the Department of Human Services on 1800 556 443 to see if you are eligible.

If you live in a rental property, speak to your landlord or property manager about being digital TV ready. If you rent or own a property where there's a body corporate, raise it with them. The digital ready website has fact sheets for landlords and tenants.

If you are in one of a small number of potential black spots and it turns out you are unable to receive digital TV then you may be able to do so by satellite instead. The Australian Government is funding a service known as Satelie Subsidy Scheme for the free-to-air Viewer Access Satellite Television (VAST).
Finally remember, there will be no door to door, phone sales or deals through retailers that will offer a rebate or access to the assistance scheme. If you encounter anybody making such claims it's a scam and you should contact Consumer Protection on 1300 30 40 54 or via email.
Find out more about your rights when purchasing from an unsolicited door to door sales person.