Welcome Walls scam
A migrant family whose names appear on Fremantle's Welcome Walls has been the target of a scam attempt, with Consumer Protection and the Western Australian Museum concerned that others in WA's migrant community may also be targeted.
Welcome Wall: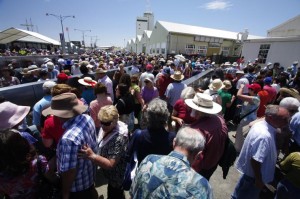 Photo courtesy of the
Western Australian Maritime Museum
Scammers have contacted a family listed on one of the Fremantle panels, demanding a payment of $599 for the names to remain on the walls. Despite two phone calls from two different people, the family refused to pay and reported the approach to the Museum and WA Police.
WA Museum Acting CEO Diana Jones today warned others who may be approached by the same people to ignore their demand for money and hang up immediately.
"I am appalled anyone would want to extort money in this way and I want to assure everyone whose names are listed on our Welcome Walls that their recognition is safe and there is absolutely no intention to charge a fee for those names to remain," Ms Jones said.
"We are concerned that those who are potential targets may be seniors in our community or come from migrant families where English might not be their first
language. These families would regard their place on the Welcome Walls as especially important, and that makes this attempt to steal money from such a vulnerable group even more heinous."
Acting Commissioner for Consumer Protection Gary Newcombe said this is yet another example of the lengths to which scammers will go to extort money from innocent people.
"Scammers continually fabricate various ways to trick a person into paying money for something which is normally free or paying bogus fees supposedly to a Government department," Mr Newcombe said.
"They are also looking for something which has some emotional attachment, hoping their intended victim may act emotionally and hastily, before taking time to check out if the demand for money is legitimate.
"People who get these random calls or emails from people purporting to be from Government departments demanding money, should independently contact that organisation to verify if the approach is genuine, but don't call any numbers given by the callers or click on any links in emails they have sent."
The Welcome Walls, which were completed by the WA Museum in 2010, pay tribute to migrants who arrived in WA by sea and their names are listed on 400 panels outside the WA Maritime Museum at Victoria Quay, as well as outside the WA Museum site in Albany.
WA ScamNet website publishes the latest scams targetting Western Australians. Please contact WA ScamNet if you or anyone you know needs assistance in handling scams by email or calling 1300 30 40 54.