Euphoria Travelling Group
${embed:EDHOBUULSUB19K7C47MKJB9KJPDP44:Embed:title=EverMAS+mail+intercept&height=355&article=EDHOBUULSUB19K7C47MKJB9KJPDP44&width=620&resource=true&class=EMBED_NONE&rendermode=Embed}
Thanks to Channel 9 for the footage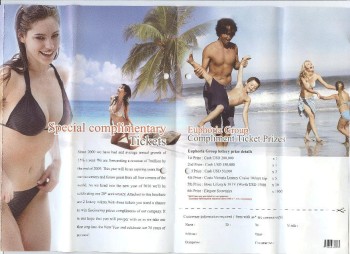 A copy of a Euphoria Travelling Group brochure
Don't let a scratch card scam ruin your New Year.
A fraudulent offer, suspiciously similar to one intercepted by WA ScamNet mid 2009, has been turning up in letterboxes across Australia.
Envelopes, possibly promoting a Christmas windfall, contain a brochure from the Euphoria Travelling Group and two scratchies.
Once scratched, one of the cards claims that the receiver has won US$150,000 and asks them to get in touch with the Malaysian-based company to provide personal information such as a phone number, bank account and drivers licence details.
Supposed 'winners' are asked to pay advance fees of about $3,000 via Western Union to cover government taxes.
Don't let the glossy brochure, impressive scratch cards, professional-looking website or plausible correspondence via email fool you.
Instead of throwing your money away help us to expose scams like this.
WA ScamNet believes it is a new version of the Malaysia Starize Travelling Group.