Bogus shopping websites
WA consumers have reportedly been conned out of money by about eight bogus shopping websites, now closed, which had stolen the identity of legitimate businesses.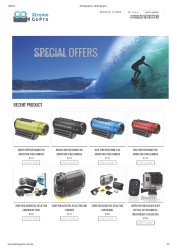 An investigaiton was initiated after consumers complained they had not received electronic goods they had ordered online, leaving them more than $7,000 out of pocket. The items purchased included iPads, iPhones and a camera which were well below market prices and the websites only accepted payment by bank to bank transfer.
The eight websites were set up using the names of legitimate businesses which are either still operating or recently closed down. When contacted by WA ScamNet, the business owners confirmed their trading names had been "stolen" and they had not registered the domain names being used in the scam.

The sites now closed are:
thefoneshop.com.au
affordableappliances.com.au
directcamerawarehouse.com.au
hdcameras.com.au
xtremegopro.com.au
totaltelevisions.com.au
thelaptopfactory.com.au
futuregaming.com.au
In February 2016, two other online shoppings sites were under investigation - see WA ScamNet's full warning at onsalemarketdeals.com and directonlinedeals.com.au
---
---
Consumers who have ordered products from the websites and are still waiting for their goods to arrive should contact WA ScamNet immediately so they can assist with our ongoing investigation into this matter.

All the websites were identical in layout and style. The terms and conditions and frequently asked questions were also the same, indicating they may have been produced by the same person or group.

Consumers should be wary if an online retailer offers goods well below market prices and doesn't accept payment by credit card or Paypal. Be especially concerned if the site asks for payment by bank or wire transfer only.

WA ScamNet advises online shoppers to:
only purchase from well-established reputable online retailers;
be wary of online retailers who accept bank transfers as their only method of payment;
use secure online payment systems. Look for a padlock and https:/ in the web address when entering financial information to make sure your details are secure;
be wary of websites selling goods well below market prices; and
do an internet search of the website and business to get comments and reviews from other consumers who have used the same site.
You can find more information and advice on how to fight back and protect yourself against scams. Enquiries or scam reports can be made by calling 1300 30 40 54 or completing the Report a scam form.