Scammers often emerge in the wake of natural disasters to try and steal money from donors and the intended recipients. It is important to report any scams online to WA ScamNet or call 1300 30 40 54 so we can warn consumers and get fake pages shut down as soon as possible.
Used vehicle buyers are also being warned to carry out thorough checks with the risk of flood-damaged vehicles from the Kimberley being sold on the WA market.
For further information relating to Kimberley flood scams, see the latest alerts below:
Downloads
There are various versions of Kimberley scam warning posters which have been created by Consumer Protection in plain English with plain English subtitles, Kriol and Walmajarri with plain English subtitles, which can be downloaded and used appropriately to spread awareness.
Kimberley Scam warning video
Kimberley floods - scam warning (Walmajarri with plain English subtitles) from Consumer Protection WA on Vimeo.
The scam video is availble from Consumer Protection's Vimeo channel to view or download in the following languages:
Scam Alert Poster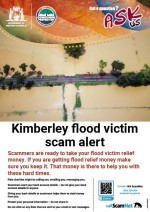 English
Scam Alert for Print [14.5MB) | Scam Alert for Web [3.3MB]
Simple English
Alert poster for Print [14.1MB] | Alert poster for Web [3.8MB]
Report Poster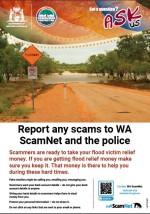 English
Scam Report for Print [16.6MB) | Scam Report for Web [4.0MB]
Simple English
Report poster for Print [16.2MB] | Report poster for Web [4.0MB]
Phishing scams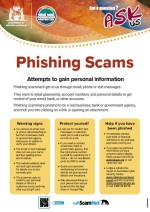 English
Phishing scams for Print [9.62MB] | Phishing scams for Web [3.17MB]
Simple English
Phishing scams for Print [9.63MB] | Phishing scam for Web [3.18MB]