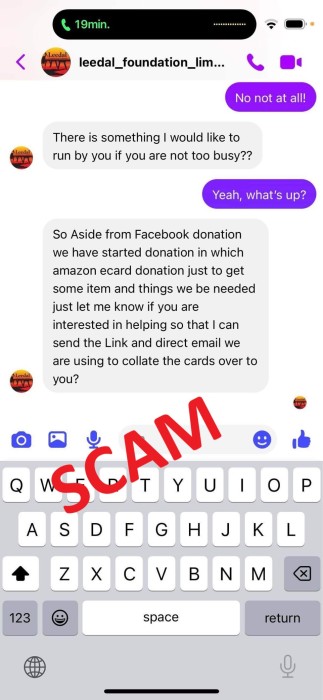 Generous Western Australians wanting to donate to victims of the Kimberley floods are being alerted to watch out for scammers who set up fake charities.
Consumers are being warned about scammers posing as a legitimate registered charity in Fitzroy Crossing, and using a fake Instagram account - leedal_foundation_limited - asking donors to buy Amazon ecards.
Leedal Pty Ltd is an Indigenous-owned organisation in Fitzroy Crossing and Leedal Foundation Limited is their registered charity. The charity has so far raised over $66,000 through their Facebook fundraiser page to directly benefit flood-affected people in Fitzroy Crossing who may not have insurance and have lost their homes and belongings.
The scammers have targeted people who have already donated to the Leedal Foundation Limited's fundraiser page on Facebook by sending them a private message through the fake Instagram page thanking them for their donation. When the donor replies, they then lure potential victims in by asking if they would like to further assist victims with items they need by purchasing Amazon ecards.
Those wishing to help flood victims should not buy gift cards from people they don't know and should only donate to licensed charities or official fundraisers such as the Lord Mayor's Distress Relief Fund or through Leedal Foundation Limited's Facebook fundraiser page.
Advice when making donations to flood appeals:
don't respond to random messages on social media and do not hand over personal information including email addresses, phone numbers or bank details to people you do not know
be careful about crowdfunding requests as these may be fake and also come from scammers. Check the terms and conditions of funding platforms and ensure you are dealing with official organisations. If you are unsure, make your donation to an established charity instead
if you are donating to an established charity or not-for-profit organisation, ensure it is licensed with Consumer Protection or registered with the Australian Charities and Not-for-profits Commission (ACNC)
a list of licensed charities in WA can be found on the Consumer Protection website or enquiries can be made by email charities@dmirs.wa.gov.au
if you think you have paid money to a scammer, contact your bank immediately and then report it to WA ScamNet or call 1300 30 40 54.
If consumers become aware of a scam, report it to WA ScamNet online at www.scamnet.wa.gov.au or call 1300 30 40 54 so consumers can be alerted and the page can be shut down.