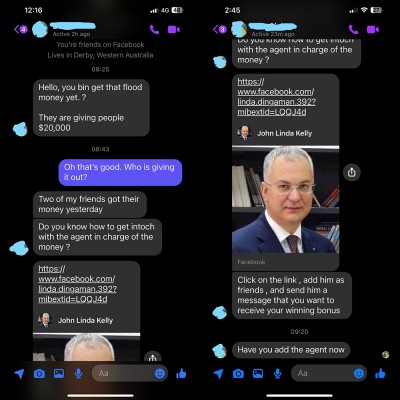 The McGowan Government is warning flood-affected communities in the Kimberley to be on high alert as social media scams promise relief money.
In the latest scam, Facebook messages using the image of a Serbian politician and containing a link to a phony Facebook page of an 'agent' are promising victims $20,000 in relief funding, but are intended to steal personal information. Eventually the scammers will request fees be paid upfront to receive the funds.
To look genuine, the messages appear to come from a friend who is encouraging the target to contact the 'agent' because they and others have already received the relief payment.
There have also been reports of social media commentary about relief funding from the 'Australian Flooding Agency', but this agency does not exist.
Donors to flood victims are also urged to be vigilant as fake charities are being set up to steal money from the intended recipients. A fake Instagram account posing as a legitimate registered charity in Fitzroy Crossing is asking donors to buy Amazon E-Gift Cards.
The best way to avoid being scammed is to only donate to licensed charities or official fundraisers like the Lord Mayor's Distress Relief Fund, to ensure the donated money goes to the intended cause. You can find a list of licensed charities in Western Australia on the Consumer Protection website.
If consumers believe they have lost money to a scam or become aware of one, report it to WA ScamNet online at or call 1300 30 40 54.