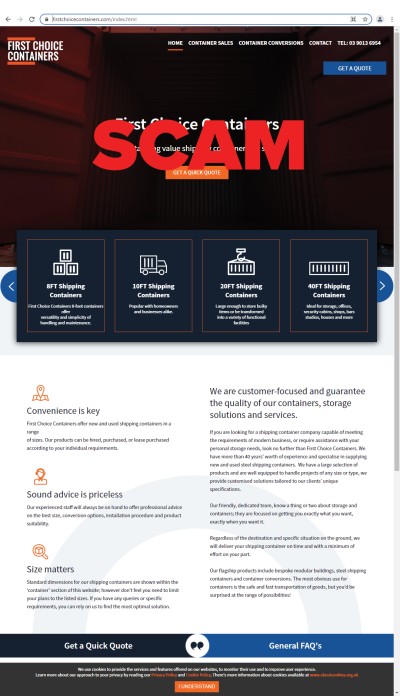 Updated June 2023
WA ScamNet has received a number of reports about fake websites claiming to sell discounted shipping containers that are never delivered after payment is made. WA consumers have reported losing money to the following fake websites (in alphabetical order):
In September 2021, a review showed 10 victims reported losing $35,500 to these scam sites, after responding to advertisements for containers on online classified sites.
The victims were even provided with ABN information of legitimate businesses, before being asked to pay for the container via bank transfer.
Once payment is made, minimal updates are provided about the 'arrival' of the container, with some victims reporting the scammers are demanding more funds due to 'delivery 'issues, or requiring 'customs' or 'insurance' fees be paid.
Tips to avoid fake websites:
Be wary of websites selling goods well below market prices.
Be wary of online retailers who only accept bank transfer as the method of payment.
Only use payment methods such as credit card or PayPal, which allow you to dispute transactions when you do not receive the goods or something goes wrong.
Take the time to locate the website of the legitimate business and make independent contact to verify whether the offer is genuine.
Do an internet search of the website and business and read the comments and reviews from other consumers who have used the same site.
Ask to see and inspect the goods