If you're hunting for a second-hand car online, don't believe scammers who claim they are getting a divorce and need to sell their vehicles cheaply.
WA ScamNet has received multiple reports from car-hunters who have enquired about vehicles being 'sold' online at a very low price via Facebook Marketplace and Gumtree, only to receive a convoluted backstory by the supposed seller about the sale.
Unfortunately, three Western Australians have so far lost $15,620 to this scam in recent months.
How the scam works
Victims searching for cars online via classified sites such as Facebook Marketplace and Gumtree find a post advertising a second-hand vehicle at a very low price, which entices them to reach out to the supposed seller.
After messaging the 'seller' (who is actually a scammer) via the platform, the victim is asked to communicate via email, whereby they're spun a story about a marriage breakdown being behind the cheap car sale.
The scammer then insists the buyer will need to organise and pay for delivery of the vehicle as they are in the army and are about to be deployed.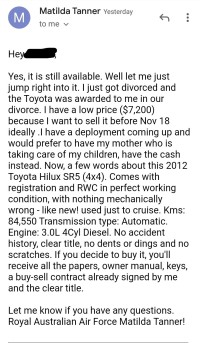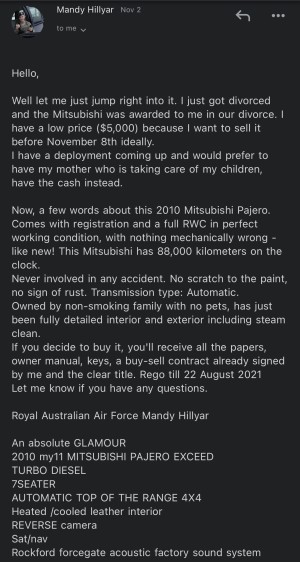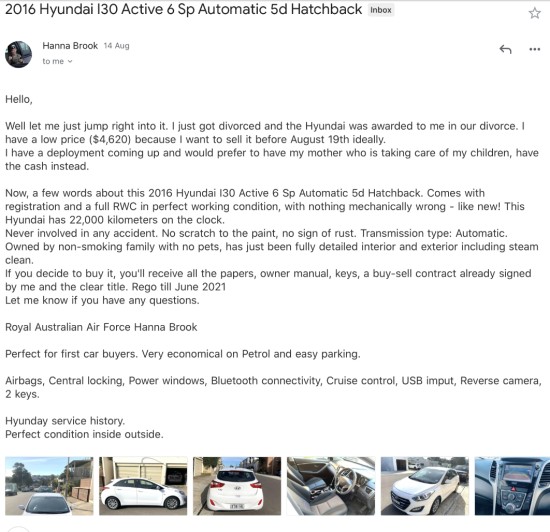 The scammer sends fake eBay Motors/eBay Buyer Protection emails which state that the money will be refunded if they are not happy with the vehicle.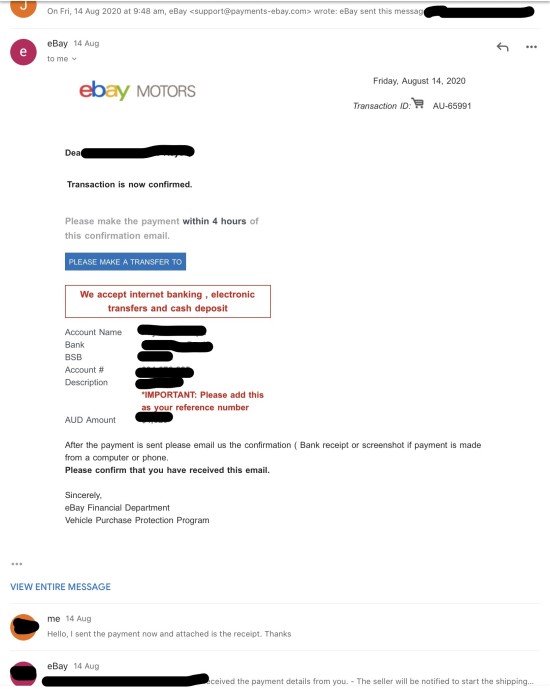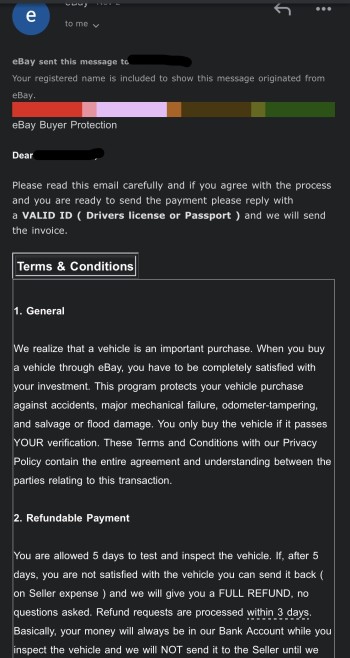 The victims pay the money via bank transfer, but never receive the car.
Because funds were paid via bank transfer without any involvement from eBay, the victim is unlikely to be able to retrieve their money.
How to protect yourself:
Never hand over personal information to people you do not know.
Be suspicious if the seller only wants payment via bank transfer – use payment methods that offer some protections like credit card or PayPal.
Check emails for authenticity – if the email is claiming to come from eBay, go to eBay directly and confirm that the email is legitimate.
If the price sounds too good to be true, it usually is.
Check pictures used in the advertisement aren't taken from other listings and/or websites (conduct a Google image search).
Perform a PPSR on the vehicle.
If you have paid money, contact your financial institution ASAP.
If you handed over personal information, contact ID Care on 1800 595 160.