19 November 2019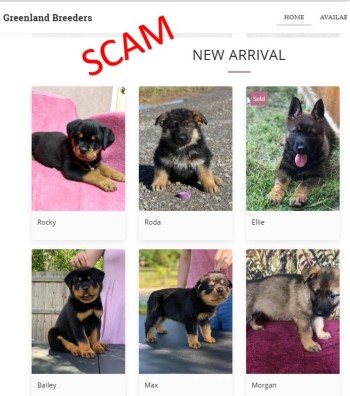 WA ScamNet has shut down a fake website and social media account that claimed to sell German Shepherd and Rottweiler puppies, but left buyers out of pocket and without a dog.
A Western Australian woman lost $800 in the scam involving the now defunct 'Greenland Guard Dog' website and its associated 'Greenland Breeders' Facebook page.
The victim exchanged emails with the scammer, who was posing as a dog breeder, and agreed to purchase one of the listed puppies called Eddy. She paid by bank transfer and received what appeared to be ownership and transport documents for the puppy.
However, Eddy did not arrive and the 'breeder' did not respond to further correspondence.
WA ScamNet identified that most of the puppy images on the 'Greenland Guard Dog' website were stolen from a South African website.