WA ScamNet is warning consumers about a binary options trading scam called the Bitcoin System. This scam fraudulently uses Seven Network's Sunrise presenter David Koch (Kochie) to promote it.
In an Instagram post Kochie denounced bitcoin scams stating "Any story or advertisement claiming the Koch's (sic) recommend Bitcoin as an investment is a scam"... "Technology has connected us to family, friends and work associates like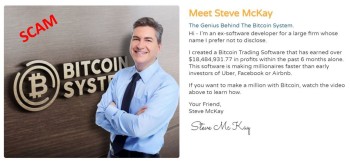 never before. Unfortunately it has connected us to scammers like never before as well."
Investment scams cost Australians more than $24 million in the first five months of 2020.
Consumer Protection is issuing a warning that multiple websites are trying to lure people into investing in these fraudulent schemes including:
The Bitcoin Code:

https://thebitcoincode.com/
http://thebitcoincodes.com/
http://thebitcoincode2018.com/
https://www.facebook.com/TheBitcoinCode/

Bitcoin Wealth - https://bitcoins-wealth.com
Bitcoin System
BitcoinEra: https://bitcoinera.app
Attempts are being made by WA ScamNet to close these sites down.
How it works
Potential investors receive spam text messages or emails claiming there is a specific amount of money available for their collection or that they can make huge profits by signing up with the system. These emails may even contain fake celebrity endorsements or news articles claiming celebs have personally had great success using the promoted system.
Victims are then directed to a website, which contains claims that investors can earn a guaranteed $13,000 in a 24 hour period using the system. The website pressures budding investors to register quickly by claiming there is only a small amount of free copies of this system available. When the victim registers, they are automatically taken to, and signed up for, another binary broker website.
The victim then receives a cold call from someone claiming to be a broker from this third party website. The broker will claim the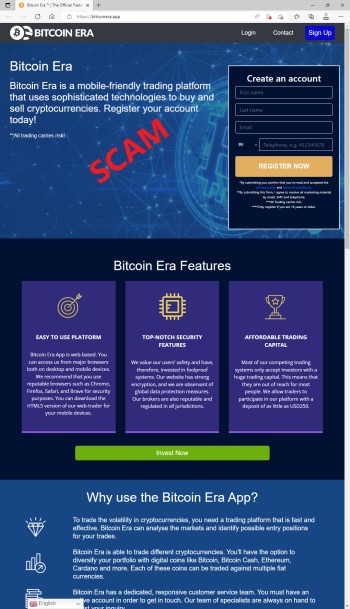 investor can make money with little to no risk but large returns, pressuring the victim to invest in their services, usually with a small deposit initially.
The broker then contacts the victim again claiming success, the investment has grown! But it's time to invest more to increase earnings.
In future calls, the broker may claim the investment has continued to grow, pressuring the victim to continue to deposit more funds for larger winnings. Or they may claim all the funds have been lost but that they can get it back – guaranteed!
Soon, either all the funds are gone or the broker ceases all communications when the investor attempts to withdraw the supposed investment gains.
These brokers are based offshore and usually in a country with no financial investment regulation in place. When things go wrong, the risk of losing a considerable amount of money is high.
Advice
Be suspicious of offers to sell you shares, cryptocurrency or a chance to take part in binary options trading, especially if the 'company' is based overseas.
Be wary of any investment offering a high return with little to no risk. If it sounds too good to be true, it probably is.
Be suspicious of celebrity endorsements for investment products, especially when they claim they have made millions of dollars.
Only invest what you can afford to lose.
If you have invested and are trying to withdraw your funds, do not pay any further funds or provide your personal information in order to make the withdrawal.
WA investors who are victims of a scam should contact
WA ScamNet
.