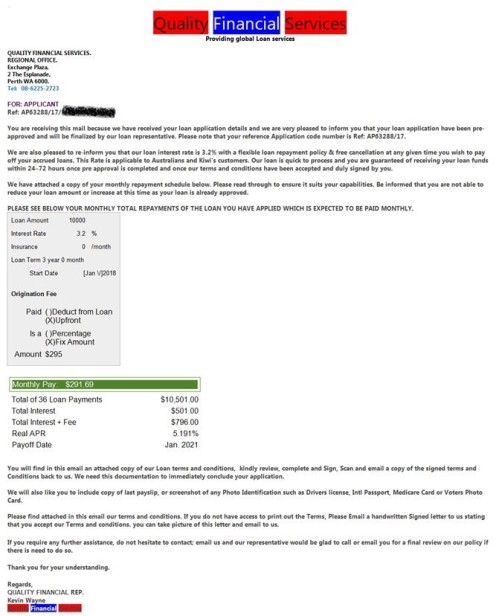 Text messages, emails and Facebook advertisements are attempting to lure consumers into prepaying fees for a fake loan from Quality Financial Services.
WA ScamNet has received a number of reports about the company and it is likely many more consumers have responded. One consumer has reported incurring a $295 loss after transferring money requested to cover the cost of insurance for the non-existent loan. It was claimed that the fee would be refunded once loan repayments were completed.
The scam uses the same email template and methods as those previously reported about Prudential Financial Services and Elevated Financial Services.
One consumer reported receiving an email from Quality Financial Services which provided a link to a website - they were then directed to go to the website and pay a 10% deposit to release the loan funds. The website was fake and an exact clone of the legitimate Prudential company website. This website is being shut down.
The consumer who received a text message advising pre-approval for a loan was told to contact admin@qualityloans.org to apply while the Facebook advertisement for unsecured loans sent replies from info@qualityloanservices.org.
All complainants received similar looking emails with the same business information and reference number for their loan applications. The emails claim the company is located at Exchange Plaza, 2 The Esplanade, Perth WA 6000.
Quality Financial Services is not located at this building and the contact number provided in the email, 08 6225 2723, rings out with no opportunity to leave a voicemail.
The email addresses have been reported so they can be shut down.
If you are looking for or applying for loans online or using comparison sites, then you need to do some research into the lender before sharing your personal information. Be especially suspicious if you're asked to pay money upfront.
Online loan scam prevention tips:
When looking for a loan online check the lender is licensed by looking on the Australian Securities and Investments Commissioner (ASIC) website - but remember that scammers also have access to this information and can copy the details of a registered credit provider in order to pretend to be them.
Double check that a website is the official site for a lender and not a fake version – look for a padlock symbol in the web address to show it is secure.
Verify that the email address truly belongs to the registered company you think you are dealing with. Generally scammers use free email services such as gmail or yahoo.
Be suspicious about requests to pay fees upfront via wire transfer or transfer into bank accounts. Get advice from Consumer Protection (1300 30 40 54) or ASIC (1300 300 630) before going ahead.
Remember that just because a phone number begins with an Australian prefix does not mean the person you are talking to is based in this country – they could be re-routing the number.
Avoid clicking on links in emails or clicking on online advertisements as they can take you to fake websites.