French Bull Rehoming Scam
6 December 2019
❗️ Do NOT buy a puppy from this website❗️
WA ScamNet has had two reports of money loss - $2,350 in each case - to this fraudulent 'French Bull Rehoming' website, which claims to re-home French and British bulldog puppies. The consumers received invoices featuring a stolen ABN that belongs to someone in Tasmania and they paid by direct bank transfer. WA ScamNet is trying to get the overseas based website shut down.

Greenland Guard Dogs Scam
19 November 2019
WA ScamNet has shut down a fake website and social media account that claimed to sell German Shepherd and Rottweiler puppies, but left buyers out of pocket and without a dog.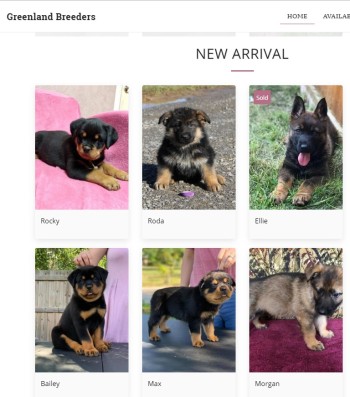 A Western Australian woman lost $800 in the scam involving the now defunct 'Greenland Guard Dog' website and its associated 'Greenland Breeders' Facebook page.
The victim exchanged emails with the scammer, who was posing as a dog breeder, and agreed to purchase one of the listed puppies called Eddy. She paid by bank transfer and received what appeared to be ownership and transport documents for the puppy.
However, Eddy did not arrive and the 'breeder' did not respond to further correspondence.
WA ScamNet identified that most of the puppy images on the 'Greenland Guard Dog' website were stolen from a South African website.
Tips for avoiding pet scams
• Consider purchasing a pet from a rescue shelter or a registered local breeder with a legitimate physical address, landline number and ABN.
• Verify the breeder information and ensure you are contacting them through their registered contact details; in WA they will be registered with Dogs West.
• Do your research. Search for reviews or warnings about the business/seller from shoppers or consumer protection agencies.
• Meet the animal in real life before handing over any money.
• If paying online, use a credit card or PayPal (which have avenues to dispute the transaction) rather than a bank or wire transfer.
Tips to avoid fake websites
Be suspicious about:
• Great 'deals' served to you via an internet search or pop-ups – scammers hope to catch you out when you impulse-buy after seeing a bargain.
• Unfamiliar or new websites – look for a copyright year on the homepage, although this date can also be faked.
• Websites that do not list a full physical address, telephone number or ABN, or if these details cannot be verified.
• Insecure payment methods such as direct bank transfer or wire transfer.
• Pixelated photos, spelling errors and other clues that you may be looking at a copycat site of a real online business.