Husky and Pomsky puppy scam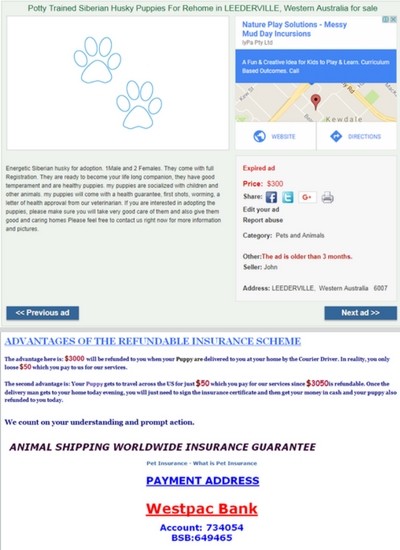 This puppy scam hits victims twice! It advertises for husky or pomsky puppies but then also hits up the buyers for additional fees for insurances, vaccines and shipping.
WA ScamNet has received reports from two hopeful husky/pomsky owners who lost a total of around $25,000 in extorted fake puppy sales, insurances and travel fees with false promises of refunds.
The original adverts appeared on Gumtree or Australian trader, online classifieds websites, with a title like "Potty Trained Siberian Husky Puppies For Rehome in LEEDERVILLE, Western Australia for sale".
WA ScamNet also found other expired ads on australialisted.com using the same wording with only the location as being different. This is typical of these scams where they change it slightly to avoid detection.
The seller
In one of the scams, the buyer received an email from the seller johnsonocar202@gmail.com offering one of two pups for $1700 including transport. The buyer was asked to pay via bank transfer to a Commonwealth Bank account for "Name: Patricia Day BSB: 064148 Account: 658966".
But the scam doesn't stop at the non-existent pups.
The fake shipping company
And this is where the second part of the scam hits, and hits hard.
Both buyers received an email from ushippetrelocation1998@consultant.com.
In one case, there was request for another $1,200 to be paid via Western Union for a 'first class crate plus vaccines'. WA ScamNet can confirm Western Union have since blocked the receiver/seller as a perpetrator of fraud.
The 'shipping company' then made several additional attempts to obtain a further $3050 and $3950 from that buyer for insurance scheme purposes.
The fake shipping company attempted to obtain further payments of up to $4,950, promising the puppy and a refund worth thousands and included an insurance certificate.
Two Westpac accounts appeared in both reported versions of this scam:
BSB: 734054
Accounts: 649465 or 649561.
In one version of the scam, the shipping company provided a legitimate looking website www.animalairexpress.com to track the shipment of the puppy. When the buyer entered in their 'tracking number' it showed the puppy was in the process of being sent to the victims. However, no puppy or refund was received and the website is no longer operational.