Western Australians in search of the bargain of the century could be scammed by fake websites that cleverly copy legitimate enterprises. Consumers need to be wary of 'great deals' offered via internet searches or pop-ups as scammers hope to catch victims out when impulse buying on the promise of a super bargain. Buyers also need to be wary of sites asking for payment methods such as direct bank transfer or wire transfer only. A secure method of payment is credit card or Paypal, where you can request a chargeback or dispute the transaction if necessary.
If you absolutely must have the item that has popped up on your screen, visit the legitimate website selling that product and buy it from there – do not access the site via the pop-up. You may see a price differential or availability which may indicate whether or not the pop-up was a fake. You can also search for the business on Facebook and look for the tick verification badge that shows the business definitely belongs to that page.
2019 case study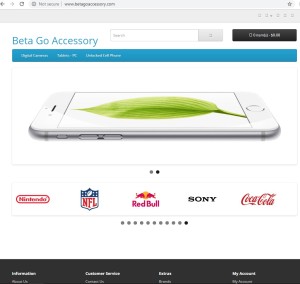 Consumer Protection has been made aware of a victim of a fake technology website that appeared to be legitimate.
The victim purchased an Apple iPhone 8 Plus from Beta Go Accessory online and paid $599 via bank transfer into the nominated online account.
The victim received a confirmation email saying that the order had been placed.
He has not received his goods nor has he had any further contact with the seller.
The website has now closed down.
Reminder – tips to avoid shopping on fake websites
Always be wary about:
Great 'deals' served to you originating from an internet search or pop-ups – scammers want to catch bargain hunters!
Unfamiliar or new websites – look for a copyright year on the homepage, although this date can also be faked. Most fake websites are less than six months old.
Websites that do not list a physical address, telephone number or ABN, or if these details cannot be verified.
Payment methods such as direct bank transfer or wire transfer only.
Pixelated photos, spelling errors and other clues that you may be looking at a copycat site of a real online business.
Be safe and do the following:
Use reputable sites and pay securely (look for the padlock symbol) with credit card or Paypal, where you may seek a chargeback if goods are not delivered.
Search for reviews or warnings about the website from other shoppers or agencies such as Consumer Protection WA.
Use Australian-based websites where possible, as it is hard to enforce Australian Consumer Law if an online business is based overseas.
If you suspect you have been the victim of a scam, call WA ScamNet on 1300 30 40 54.